Hideout at The Laylow Partners with Big Island Coffee Roasters to Serve Hawaii's Best Roast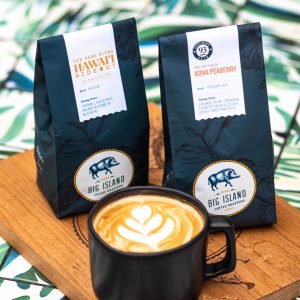 We don't mess around when it comes to that first cup of coffee in the morning. After all, it is the most essential ingredient in your breakfast. That's why we're thrilled to share that The Laylow has selected Big Island Coffee Roasters as its new, exclusive provider of coffee at Hideout — one of Waikiki's few restaurants brewing everything from single shots to ice mocha.
Voted "Best Local Coffee Company" by Honolulu Magazine and ranked among the "12 Best Coffee Roasters in the USA" by Forbes, Big Island Coffee Roasters offers the most premier 100% Hawaiian coffees available while focusing on utmost quality, sustainability and community. Thus, it was only natural to bring the company's award-winning varieties right to you. Explore the blends that await at Hideout and join us for a cup or two.
Kona Peaberry
With tasting notes of cinnamon, caramel and plum, plus a hint of cacao and cedar, Kona Peaberry is a 100% Kona coffee that's deeply sweet and rich for a medium-light or medium-dark roast. And lucky for you, Hideout offers bags of Kona Peaberry to purchase so you can brew the bold flavors at home.
Hideout Blend
The Laylow collaborated with Big Island Coffee Roasters to create a specialty blend just for Hideout featuring 50% Kona beans for a delicious, silky-smooth brew. And guess what? You can purchase this one, too. Grab a bag and bring Hideout to you.
Espresso Bites
Enjoy coffee by the bite with Big Island Coffee Roasters' brand-new Espresso Bites, now available at Hideout. Made with 100% Hawaiian coffee and organic ingredients, the bites offer farm-to-table coffee in a velvety, chocolate-like bar that can be chewed or put into hot water or milk for a drink on the go.
So, what are you waiting for? Make a reservation for breakfast at Hideout and come on up for a barista-crafted concoction built around Big Island Coffee Roasters' iconic brews.
« Previous
|
Next »