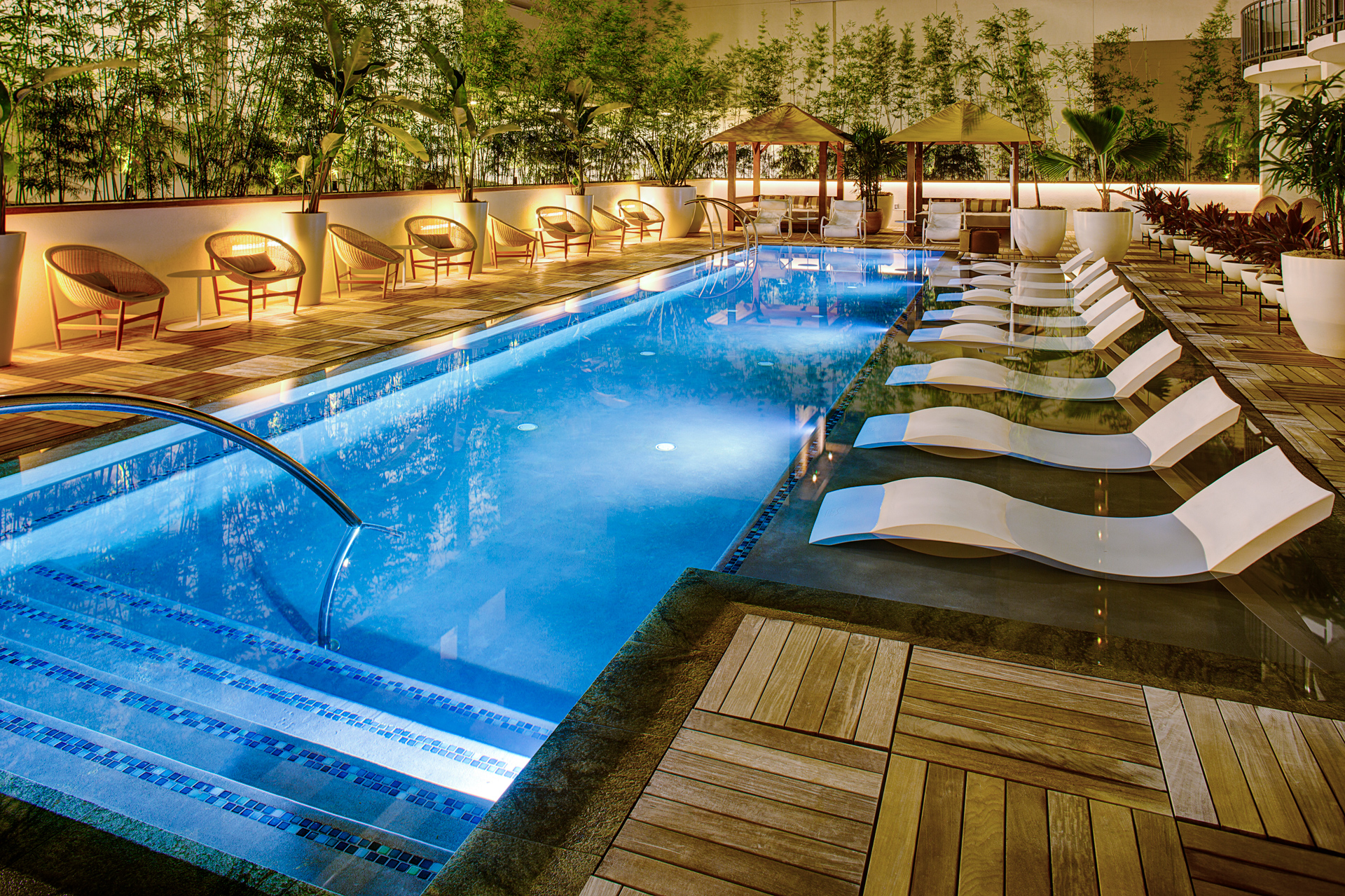 THE LAYLOW, AUTOGRAPH COLLECTION NAMED AS ONE OF TOP 10 HOTELS IN HAWAII IN CONDÉ NAST TRAVELER'S 2022 READERS' CHOICE AWARDS
*Voted as #6 Best Hotel in Hawaii*
(HONOLULU) Oct. 7 2022– The Laylow, Autograph Collection, a mid-century modern oasis in the heart of Waikiki, was named the #6 Hotel in Hawaii in the Condé Nast Traveler 2022 Readers' Choice Awards. The hotel received an 88.37 score rated by readers.
"It's an honor to rank among the top hotels in Hawaii again this year," said Robert Friedl, general manager of The Laylow. "As always, we extend our gratitude to our amazing guests who voted and incredible staff who go above and beyond to make every guest stay memorable."
This year marked Condé Nast Traveler's 35th anniversary and hundreds of thousands of voters submitted responses rating their travel experience across the globe. The Readers' Choice Awards are the longest-running and most prestigious recognition of excellence in the travel industry. The full list of winning hotels in Hawaii can be found here.
The Laylow, Autograph Collection strives to continue to enhance the guest experience. This year, The Laylow has introduced new and returning amenities such as:
Poolside and Bar Lunch Service: Everyday from 11am – 4pm, guests can savor Modern Hapa Hawaiian bites and sip craft cocktails.
Local Coffee: Big Island Coffee Roasters is now the official supplier of Hideout Coffee. Guests can enjoy the local, hand-crafted coffee every day from 6 – 11am.
Sustainable Dining: Hideout at The Laylow is an official Ocean Friendly Restaurant by Surfrider Foundation. The program consists of restaurants that are committed to reducing plastic pollution.
Elevated services and activities: To provide guests the ultimate stay experience, The Laylow offers concierge services for guests to enjoy an array of activities such as helicopter tours, snorkeling, guided hikes and much more. Daily activities, like lei making and ukulele lessons, are also offered daily from 10-11am.
Branded merchandise: To celebrate an endless summer, The Laylow teamed up with Midori Bikinis in a brand collaboration to feature our signature monstera leaf design. The collection is exclusively available at The Laylow's gift shop. Guests who opt to spend their days at the beach will enjoy the Aloha Collection bags also featuring the signature pink and blue monstera print.
The Laylow is the only Autograph Collection hotel on the island of Oahu. Perched above the hustle and bustle of Waikiki, The Laylow is a 251-room secluded oasis that showcases mid-century modern design blended with present-day Hawaii charm. Each of the guest rooms boast bold, custom-created monstera leaf wallpaper, inspired by vintage bark cloth patterns.
The second-floor lobby is home to The Laylow's signature award-winning restaurant, Hideout. The open-air dining space features Modern Hapa Hawaiian cuisine, live nightly entertainment and hand-crafted cocktails surrounded by tiki torches and featuring two fire pits.
To celebrate the award, The Laylow invites guests to experience a one-of-a-kind Waikiki experience with our special offers.  For more information about The Laylow, Autograph Collection visit laylowwaikiki.com For restaurant reservations, please visit hideoutwaikiki.com.
###
About The Laylow, Autograph Collection
The Laylow, Autograph Collection is a 251-room urban oasis perched above the heart of Waikiki on the island of Oahu. The hotel is a showcase for modernist design and handpicked accessories that tell a captivating story of Hawaii's melting pot of cultures and mid-century Honolulu. Works by mid-century modern visionaries inspired the aesthetic of guest rooms and public spaces while Hawaiian furnishings from the period were reinterpreted to give the hotel a distinct sense of place.
For hotel reservations and more information, please visit: www.LaylowWaikiki.com or (866) 913-6852. For restaurant reservations, please visit: www.HideoutWaikiki.com or call (808) 628-3060.
About Autograph Collection Hotels
Autograph Collection Hotels advocates for the original, championing the individuality of each of its over 260 independent hotels located in the most desirable destinations across 44 countries and territories. Each hotel is a product of passion, inspired by a clear vision, soul, and story that makes it individual and special: Exactly Like Nothing Else. Hand-selected for their inherent craft and distinct perspectives on design and hospitality, Autograph Collection properties offer rich immersive moments that leave a lasting imprint. For more information, please visit www.autographhotels.com, and explore on social via Instagram, Twitter, and Facebook to be inspired by immersive moments that are #ExactlyLikeNothingElse. Autograph Collection is proud to participate in Marriott Bonvoy®, the global travel program from Marriott International. The program offers members an extraordinary portfolio of global brands, exclusive experiences on Marriott Bonvoy Moments and unparalleled benefits including free nights and Elite status recognition. To enroll for free or for more information about the program, visit marriottbonvoy.com.
About Marriott International, Inc.
Marriott International, Inc. (NASDAQ: MAR) is based in Bethesda, Maryland, USA, and encompasses a portfolio of more than 8,100 properties under 30 leading brands spanning 139 countries and territories. Marriott operates and franchises hotels and licenses vacation ownership resorts all around the world. The company offers Marriott Bonvoy®, its highly awarded travel program. Connect with us on Facebook and @MarriottIntl on Twitter and Instagram.
Media Contacts:
Ashley DeBolt
MVNP
(808) 784-3120
« Previous
|
Next »